August 19, 2016
by Amber G.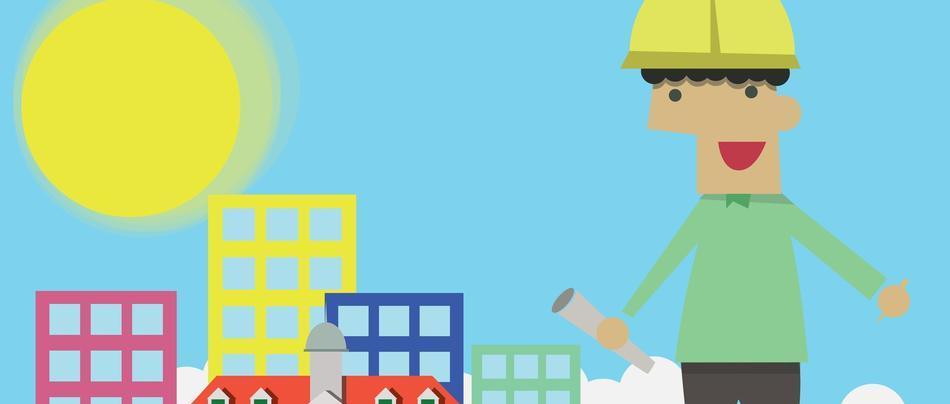 Is search engine optimization the right choice for general contractors and their business?
Many contractors have different opinions on whether online marketing is a worthwhile endeavor, but with the contracting industry constantly becoming more competitive, it's important to explore all your options.
Most business owners understand the importance of having a website, but is it really worth paying the monthly hosting fees if your website isn't being found? The purpose of having an online presence is to give customers easy access to your services and contact information.
General contractors want customers to find them, and call them, since more calls equals more business. How do you get more exposure for your website? SEO for general contractors is one method can help your business succeed in gaining more customers and success.
This article will review the essential information that you'll want to consider before deciding if SEO is the right choice for your general contractors business. Marketing your general contracting business in the digital age can be very different than it was 10 or 20 years ago. Potential customers use new, innovative methods of finding businesses to fulfill their needs, and it's important to keep up with the newest marketing techniques to stay profitable.
What is SEO and how it can benefit general contractors
The term search engine optimization, or SEO for short, is simply the phrase used to describe marketing your website or business on the Internet. It involves optimizing your website, building links to it and obtaining a high ranking in Google or other search engines in order to give your business better visibility.
SEO for general contractors involves more than just getting your website listed on the search engines. The real benefit behind SEO practices is making your site rank among the top results for certain keywords or phrases.
Perhaps your general contracting business specializes in roofing, siding or new home additions. If so, then SEO could help get your name listed in Google for keywords related to these services. The goal behind SEO is to help customers find your website when they are searching for certain keywords related to your business.
If a consumer is seeking out general contractors for a specific job, chances are they're going to type a search phrase into Google to find a business that will perform that job for them.
Here's how SEO works in a nutshell. There are thousands of people searching the Internet for services that they require every day. Most people are going to turn to Google, Bing or Yahoo to satisfy their needs. Maybe a person needs someone to fix their floor, put up new walls or add an addition to their house. Let's say your general contractors business services the San Diego area. A customer may type into Google, "general contractors san diego." That's a very broad search term that will return an overwhelming number of results with very high competition.
If you have a savvy SEO firm marketing your general contractor's website, then they will help target more specific keyword phrases that you'll have a better chance of getting ranked highly for. For example, let's say that 1000 people search for, "general contractors fix hole in sheetrock fast san diego" each month. That search term may have lower competition and if your SEO company could get your ranked in the top 10 results, then that's 1000 more potential customer viewing your website every month.
Advantages of SEO for your general contracting business
A good general contractor knows that the more customers who are aware of their services, the better chances they have at growing their business. Having your contracting business listed in the yellow pages is a no brainer, but with the easy access of the Internet, how many customers are print ads going to reach?
To be successful as a general contractor you must get your name known by customers and build a reputation for quality work. You may have the best rates and perform excellent work, but if potential customers don't know about you, then you'll never get the chance to expand. Customers will use whichever method is easiest to find a contractor to meet their needs, and these days that method is typically the Internet. Nearly everyone has access to the Internet in one way or another. Whether they are using their smartphones, tablets or desktops most consumers would rather type in a quick search phrase than browse through a newspaper or phone book.
When a potential customer is looking for a general contractor in their area, will they find your business or one of your competitors?
If you have an expert firm behind the SEO of your website, then chances are you can beat your competitors in search engine rankings and customers will find your business instead.
Customers who are in need of a general contractor's services could have a variety of different jobs they need done. Perhaps they need a new roof, new siding or maybe they'd like to put a new porch on their house. Let's say a customer lives in San Diego and is looking for a general contractor to do a job on their home. A customer who desires a service isn't only going to type in a search phrase such as, "general contractors in san diego," but they may type in a phrase that more accurately describes the service that they require. They could type in, "general contractor roofing san diego" or "general contractor new porch san diego."
Targeted search phrases like these are how effective SEO for general contractors can reach thousands of potential customers every month.
Getting the most out of SEO for general contractors
General contractors know that their business is only as good as they job they perform, and the more customers who find your business, the more likely they are to learn about your skills.
One the benefits of SEO for general contractors is getting your website ranked in the search engines won't require recurring costs, as it would with running a monthly newspaper advertisement.
The beautiful thing about the Internet is once an experienced SEO firm performs the work necessary to give your business a high ranking for keywords, your ranking is likely to stay there for quite some time. Any reputable SEO company will only charge you once they achieve their promised results for you, not like a newspaper ad where you pay regardless of the ad's performance.
Where else could you achieve consistent exposure to potential customers each and every month, and not have to pay before you get the results? Television and print ads are costly, with uncertain results, and the quickest way to lose money is to sink it into marketing services that don't offer a substantial return.
If you're looking into SEO for general contractors, you should know it has the highest potential for success with a minimal investment, and you won't pay unless you receive the results that were promised to you. Any good SEO company will offer that promise.
Modern SEO for the modern general contractor
As a business owner, your main job is to oversee the day-to-day operations of your general contracting company. It's not practical for you to take the time to learn good SEO practices for yourself, so it makes good sense to find a firm that handles this type of marketing for you.
A good general contractor knows that the more customers who are aware of their services, the better chances they have at growing their business. Having your contracting business listed in the yellow pages is a no brainer, but with the easy access of the Internet these days, how many customers are print ads going to reach?
General contractors who are looking to remain competitive in a very crowded market will need to take advantage of the most efficient advertising methods. SEO for contractors and their websites are very important since more consumers than ever before are using the Internet to find services that they require. If your contracting business isn't being found online, then it's like leaving money on the table.
If you are running a general contractors business, then you'll want to be aware of the new and emerging marketing strategies that are effective in attracting customers. General contractors are in a particularly competitive market, as you can typically find a contractor in the local newspaper of any town, but the trick is to get customers to see your business first when they are searching for services.
Choosing the right SEO firm for general contractors
General contractors are going to have individual needs when it comes to SEO, and choosing a firm to handle your online marketing goals can be challenging. A quick search for SEO for general contractors will yield thousands of companies fighting for your attention, but how do you know which one is right for you?
Beware of SEO firms that make outlandish claims of giving your general contracting business number one rankings in all the major search engines. Online marketing is a delicate and complex process, and any reliable SEO company will be honest with you about your expectations. SEO for general contractors is particularly competitive, so you'll want to ensure you select a firm that has had experience in this field for some time.
The most important criteria for selecting a company to handle SEO for your general contracting business is to use one that only charges for their services once they gain you the rankings that they promise.
All too often general contractors get sold on the first marketing firm they come across that offers a flat rate and has a flashy website. Beware of any SEO website that charges you for their service before fulfilling their promise of delivering you good rankings in the search engines.
The type of SEO company that you want to do business with is one where you only pay once you receive your promised rankings. A reputable online marketing firm will guarantee that you don't get charged for services that fall short of their claims. They will work with you one on one and find the right keywords that would benefit general contractors the most.
As a general contractor, you will want to choose a company that is willing to give you a live consultation and find out your business's needs, goals and expectations. Experts will find out the details that they need to make your SEO process a success, implement their marketing strategies and give you the rankings that will drive more customers to you. The more customers that see your general contractor's website, the more calls your business will receive and the more profits you can earn.
Remember, you deserve results and honest expertise for your hard earned money. Choosing to do business with an SEO firm that won't charge you unless they deliver on their claims is a smart way to ensure a return on your investment. That way, the SEO firm's success depends on the success of your business and the results that they will deliver for you.
How to get started on performance based SEO for general contractors
Contact SearchAdvisor by clicking here or calling 1-877-819-7654
We're different from other SEO firms because we want your business only if we know we can get tangible results for you, the client. If you don't rank, you don't pay! It's that simple.
Our track record of success is so consistent because of this ideology.
Here's how it works:
1. You contact us by clicking here or calling 1-877-819-7654.
2. You give us some details on your general contractors business and the types of clients you're trying to acquire.
3. We do our research – if we can find good search terms for your general contractors business we proceed; if we don't, we let you know that you may want to focus on something other than SEO.
4. If your firm is a good fit for SEO, we run a campaign for your business, and you shoot to the top of Google for relevant queries that your target potential clients are searching for.
5. You receive the website traffic (and the accompanying phone calls) that you need in order to schedule consultations and close clients.
And it really is that easy. Search engine optimization is one of the best ways to make your phones ring and increase your case load – but only if your general contractors business is a good fit for search engine optimization in the first place.
Contact SearchAdvisor by clicking here or calling 1-877-819-7654 and we'll be happy to show you how you can leverage SEO to generate more clients than your firm can handle.
Get More Clients Then You Can Handle
If You Don't Rank, You Don't Pay. Risk Free SEO Services
No long term contracts. $0 to signup.